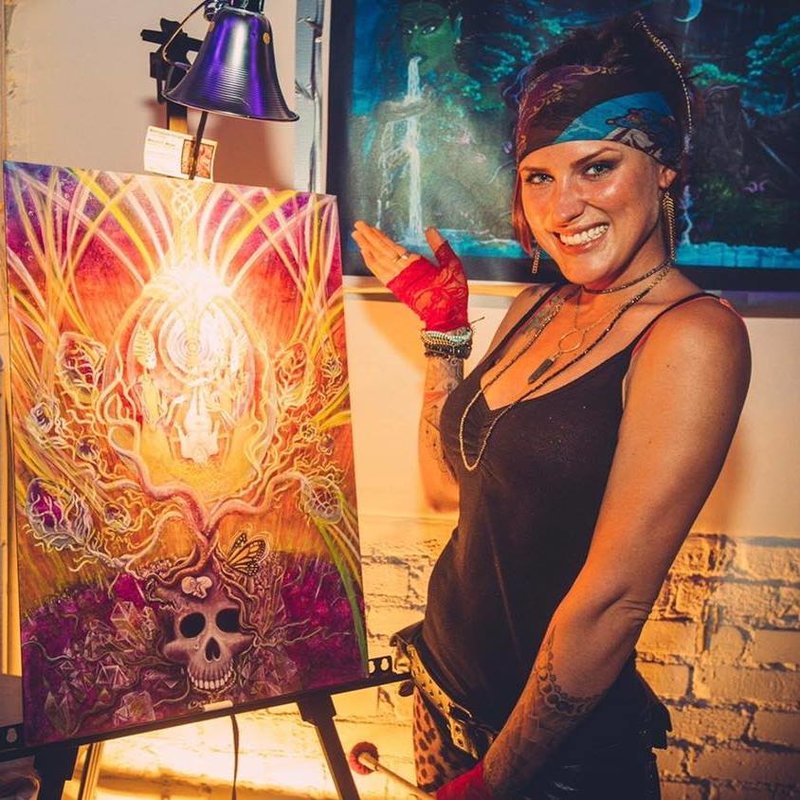 Art to me is the doorway between worlds and the bridge of dreams. Some of my paintings have no meaning, some do. I like to allow others to make my visions mold into whatever it is they see or need at that time in space, for themselves.

For me painting is a form of meditation. An escape, and a means to transcend what is in my forever-wandering, sub-conscious mind.
All of my art is filled with love, light, time, and hidden meanings. I like to hide things, so look closely and you might find some hidden faces, goblins, vaginas, naked women or whatever your eyes will allow you to see. Sometimes I don't know what I am painting. I can just stare at the canvas for hours to see what comes out, so it's all a magical process that I love giving into with patience and persistence. I like to see what comes out of paint without force. I don't like everything to be planned, some times its good to let things just flow, so I meditate on it.
I have been painting since I was a child, but I don't remember it much after my long term and short term memory was erased almost entirely. Thankfully and remarkably is has slowly been returning with lots of hard work through rehabilitation, determination and old photos.
In 2010, I was in a near fatal commercial squid fishing accident while working as a deckhand off the coast of California fishing for calamari. Leaving me with a blood clot in my brain, a traumatic brain injury, chronic fibromalygea (the pain syndrome) and a loss of my identity.
My six minute short film that my friend made for me to help me remember who I was, went viral and ended up winning several awards including first place at the LA Movie awards in 2013, for Best Short Film, Best Cinematography, Best Visual Effects, and Best Documentary Short.
I watch it at least once a week to remember to never give up, to live life with passion, and go always be positive and vibrate with good intention.
"Fire and Ice," can be seen here:
After years of rehabilitation some memories have returned but not all. Thanks to good doctors, a positive lifestyle, a great support group and lots of hard work. I have a beautiful view of what "magic" really is. I feel I have a second chance at life and a thirst to paint and recreate everything with powerful meaning and transparency. I am very lucky and blessed to have what I call, "a blank canvas to start over on, to be alive."
I am fortunate to have been studying painting all over the world since then, to reconnect with my new perspective on life and to help me understand the visions, dreams, and gifts, that I now have. Making art has been extremely healing for me since I forgot how to do anything creative. I couldn't remember even how to paint, draw or even do my makeup for years, then it clicked. I feel very blessed to still have the distant memories embedded within me and to have the ability to make new ones.
Since then I have been a sponge for new knowledge. I see, and paint everything with a new beautiful & vibrational perspective. I hope to be a proper scholar for the arts, and flock forward to teaching my own visionary healing art courses, to doing murals around the world and allowing my art to speak for itself.
.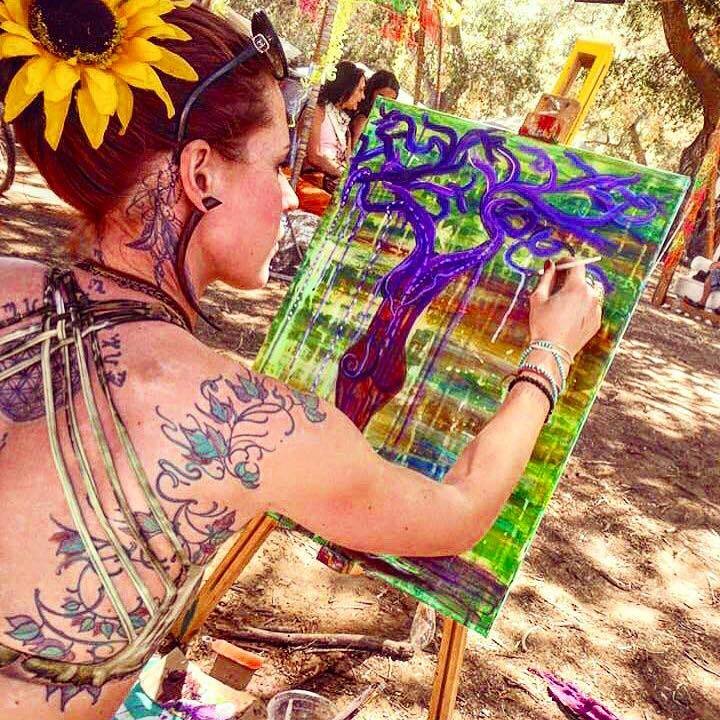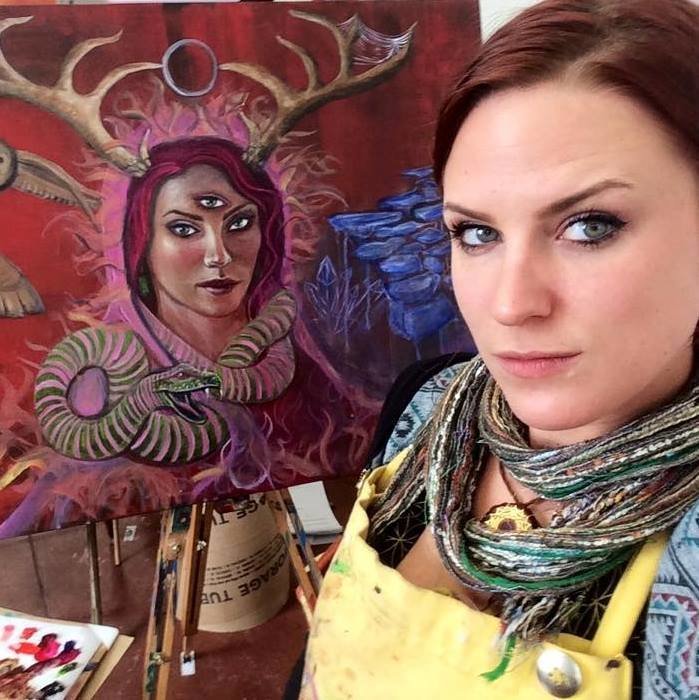 I have studied with teachers such as David Woody, Amanda Sage, Laurence Caruana, Jonathan Solter, Adam Scott Miller, & Daniel Mirante.
Artists like my mother, father & grandfather who each inspired my growth as a child and opened my eyes to painting. I learned sculpting from sculptor Michael McGinnis at the Santa Rosa College, have six years of studying ceramics, a year of color theory at Cuesta College, as well as six years experience encaustic wax painting in a visionary & mystical style taught by Kay Klose (my mother) and several other teachers at the Encaustic-con seminars in Austen, Texas. I have studied live drawing at Santa Monica College as well as at several seminars and workshops more focused on certain techniques of all forms. I just did a semester studying the old & new masters techniques of painting at the Vienna Academy of Visionary Art in Austria, and will hopefully return for the winter trimester 2017.
My main commitment is to painting. I love to paint live at events to show my process and to be involved in the conscious movement of music and creativity. Its super fun to interact and make a show out of creating something from scratch!
I have done custom works for celebrities like WWE Wrestler Mike (the Miz) Mizanan and to Austin Winkler, the lead singer of the band Hinder. I am always accepting custom jobs; I do murals, portraits, pet portraits, and can creat anything you want if you have a reference photo for me to copy & create into a piece of art for you!! Allow me to make the art more personal for you in my style. So please don't be shy, send me an email if interested, I love projects and am currently accepting commissions.
I thank you for your support, and appreciation of my work.
Wishing you much love, light, and mmmmmagic.